Parent To Child Transmission
PPTCT is program for prevention of mother-to-child transmission (PMTCT) of HIV.HIV can be transmitted from an HIV-positive woman to her child during pregnancy, childbirth and breastfeeding. Mother-to-child transmission accounts for over 90% of new HIV infections among children.
Prevention of mother-to-child transmission (PMTCT) programmes provide antiretroviral treatment to HIV-positive pregnant women to stop their infants from acquiring the virus.
Without treatment, the likelihood of HIV passing from mother-to-child is 15% to 45%. However, antiretroviral treatment and other effective PMTCT interventions can reduce this risk to below 5%
Preventing new HIV infections among women of childbearing age
Preventing unintended pregnancies among women living with HIV preventing HIV transmission from a woman living with HIV to her baby
Providing appropriate treatment, care and support to mothers living with HIV and their children and families.
Antenatal services and HIV testing during pregnancy
Use of antiretroviral treatment (ART) by pregnant women living with HIV
Safe childbirth practices and appropriate infant feeding
Uptake of infant HIV testing and other post-natal healthcare services
 
The main beneficiaries for PPTCT services are HIV positive pregnant women and their children who are vulnerable to this disease.
PPTCT programme in Pakistan:
The PPTCT programme was established in 2007 with funding from the World Bank Enhanced Programme, UNICEF, Global Fund, and Government of Pakistan (NACP) as part of the HIV Treatment and Care initiative. Currently there are 16 PPTCT centres nationwide where women and their infants availing PPTCT services. The list of PPTCT centres in Pakistan is as follow: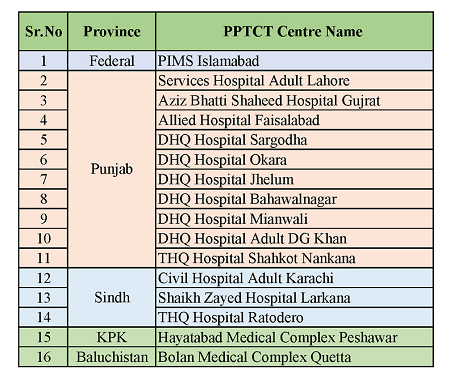 Have a question or need some help?
APLHIV provides a respectful and safe venue where a wide range of organizations with differing missions come together to share HIV-related information. Call us now at 0800-22209